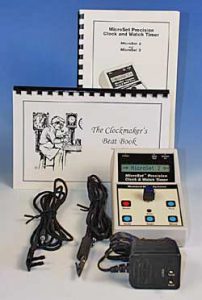 MicroSet Model 2 will not only measure the rate and beat error of your clock, it also adds two un­prece­dented new functions in a clock timing tool. The Count Mode allows you to count the correct rate of any running clock. The Strike Mode records strike counts for diagnosis of errors. Model 2 will measure watches as fast as 36000.00 Beats Per Hour and display Atmos rates to the full resolution of 30 seconds to six decimal places.
Price: $285
Place an order



Specifications
16 character LCD display
5 button keypad
Level control with on/off switch
Acoustic pickup for tick sounds, suitable for clocks and watches
Optical detector to monitor pendulum swings rather than tick sounds
(easily measures Atmos and anniversary clocks)
Measure beat times from 36.00 BPH ro 36000.00 BPH
Resolves beat times to millionths of a second or hundredths of a Beat Per Hour
Calibrated to 1 or 2 parts per million at room temperature
(calibration is under software control and can be recalibrated in the field)
Built-in beat amplifier (optional)
Computer interface (optional)
8K data buffer for Data Capture (optional)
Audible beep tone to signal when long samples have been completed
Internal 9 volt battery and 110 volt AC adaptor included
Nonvolatile memory for parameter storage
Small size (3.5″ x 5.5″ x 2″)
Clock train data book included
2 year warranty
Large assortment of accessories including alternate optical and watch sensors and precision interface tools.
Functions
Time Mode measures the beat time of clock and watches
(Average 1 to 254 ticks, default value for beat count can be programmed)
Display results in Seconds Per Beat or Beats Per Hour
Acoustic sensor to measure from the tick sound
Automatically disregard extraneous sounds at improper intervals
(A "blanking window" makes the timer "deaf" between ticks)
Optical sensor to measure from the pendulum swing on clocks with pendulums. The optical detector gives more accurate readings and ignores noises like chimes and hourly strike.
Special mode for reading Atmos clocks
(Rate is displayed as 30.000000 Seconds Per Beat)
Special mode for finding the rate of unknown movements by measuring the minute hand
Beat Error Mode measures the ratio between even and odd ticks to put a clock or watch "in beat".
Count Mode determines the correct beat time of any running pendulum clock without train tables or counting teeth.
Strike Mode to diagnose inconsistent errors in a strike train.
Technical Modes for the experimenter: serve as a tachometer for rotary tools like a lathe or mill, measure the duration of the light and dark phases of an optical sensor, output temperature readings once per second (temperature sensor required), output barometer readings once per second (atmospheric sensor required).
MicroSet 2 includes:
MicroSet 2 Clock and Watch timer
Acoustic sensor
Optical sensor
9 volt battery
110 volt AC adaptor
The Clockmaker's Beat Book
Complete Instruction book
MicroSet 2 optional features: