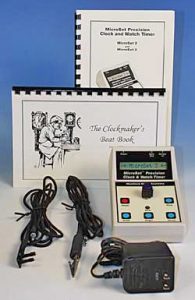 MicroSet Model 3 adds several useful features to MicroSet 2. It can read rate as seconds per day of error for any clock or watch. It will calculate and display the exceptionally accurate overall rate of any clock or watch over time. It includes additional features especially for watch timing. It will measure Accutron watches. When used with the Windows Interface Program it can simulate paper tape watch timing machines, display the component sounds of watch ticks, and calculate balance wheel amplitude.
Price: $335
Place an order

Specifications
16 character LCD display
5 button keypad
Level control with on/off switch
Acoustic pickup for tick sounds, suitable for clocks and watches
Optical detector to monitor pendulum swings rather than tick sounds
(easily measures Atmos and anniversary clocks)
Measure beat times from 36.00 BPH ro 36000.00 BPH
Resolves beat times to millionths of a second, hundredths of a Beat Per Hour, or tenths of a second per day
Calibrated to 1 or 2 parts per million at room temperature
(calibration is under software control and can be recalibrated in the field)
Built-in beat amplifier (optional)
Computer interface (optional)
8K data buffer for Data Capture (optional)
Audible beep tone to signal when long samples have been completed
Internal 9 volt battery and 110 volt AC adaptor included
Nonvolatile memory for parameter storage
Small size (3.5″ x 5.5″ x 2″)
Clock train data book included
2 year warranty
Large assortment of accessories including alternate optical and watch sensors and precision interface tools.
Functions
Time Mode measures the beat time of clock and watches
(Average 1 to 254 ticks, default value for beat count can be programmed)
Display results in Seconds Per Beat, Beats Per Hour, or Error Per Day of any timepiece
(is not limited to a programmed set of train times).
The Running Average function will display the accumulated overall rate of any clock or watch, becoming more accurate the longer it runs.
The Pendulum Adjustment mode will display the the amount you must move the bob (in ten-thousandths of an inch or fractions of a centimeter) to make the clock run on time.
Can measure the rate and amplitude of swing simultaneously when used with the Windows Interface software.
Acoustic sensor to measure from the tick sound
Automatically disregard extraneous sounds at improper intervals
(A "blanking window" makes the timer "deaf" between ticks)
Optical sensor to measure from the pendulum swing on clocks with pendulums. The optical detector gives more accurate readings and ignores noises like chimes and hourly strike.
Is able to read Atmos clocks (Rate is displayed as 30.000000 Seconds Per Beat)
Special mode for finding the rate of unknown movements by measuring the minute hand
Beat Error Mode measures the ratio between even and odd ticks to put a clock or watch "in beat".
Count Mode determines the correct beat time of any running pendulum clock without train tables or counting teeth.
Strike Mode to diagnose inconsistent errors in a strike train.
Accutron Mode to rate tuning fork watches (requires optional sensor)
Tick Mode produces a graphical display of watch ticks and balance wheel amplitude with the Windows Interface Program version 3.
We have improved on the Tick Mode with the optional "Balance Wheel Amplitude" function.
"Paper tape" display mode emulates older watch timing machines with the Windows Interface Program version 3.
Technical Modes for the experimenter: serve as a tachometer for rotary tools like a lathe or mill, measure the duration of the light and dark phases of an optical sensor, output temperature readings once per second (temperature sensor required), output barometer readings once per second (atmospheric sensor required).
MicroSet 3 includes:
MicroSet 3 Clock and Watch timer
Acoustic sensor
Optical sensor
9 volt battery
110 volt AC adaptor
The Clockmaker's Beat Book
Complete Instruction book
MicroSet 3 optional features: