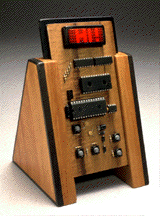 The Desktop Billboard is a larger version of the Shirtpocket Billboard for office desks, table tops, or display cases. It is a miniature programmable scrolling electronic sign that can display any message you choose (up to 50 characters in each of 4 different message areas) across 70 tiny red LED lights. The display area is twice as wide as the Shirtpocket Billboard (5 pixels high by 14 pixels long) and the whole circuit is housed in a cherry wood cabinet. The functioning components are visible on the front of circuit board which is covered with Bubinga wood veneer.
Many operator controls are built into the software. You can choose any one of 4 different 50-character messages, you can make the display brighter or dimmer, you can vary the scroll rate, and you can select two different built-in animation effects to run at the end of your message: a bouncing ball (like "Pong") or something that looks like an exploding dot. When entering characters for your message, you can insert, delete, and scroll forward or backward. Messages are retained in non-volatile memory when the Billboard is turned off.
As with my other devices, I have personally made the cabinet, designed the circuitry, and written the software.
The Desktop Billboard will run on its own internal batteries or an AC adaptor.
I no longer make the Desktop Billboard for sale.